Back To Menu
Platters / A La Carte
Market Price
Crab Cake Platter
Two 8 oz. Maryland lump crab cake fried or broiled to perfection. Served with your choice of (2) sides
Style of Crab Cakes:
Fried
Broiled
Sides:
Idaho Cut French Fries
Cole Slaw
Shrimp Macaroni
Gourmet Onion Rings
Fresh Steamed Green Beans
Fresh Steamed Broccoli
Corn on the Cob
Hush Puppies
Caesar Salad
House Salad
Cucumber Salad
Pasta Salad
Salad Dressings:
Caesar
Blackberry Peppercorn Vinaigrette
Buttermilk Ranch
Blood Orange Shallot Vinaigrette
Have you tried this item? Pop it!
Help other diners know what to expect by sharing your experience.
25 people have popped this item
Photo Gallery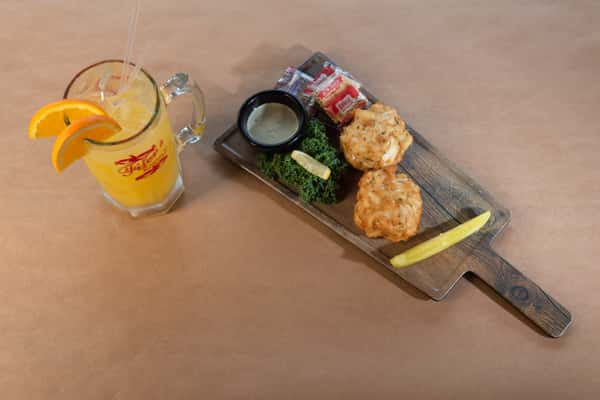 Back To Menu
Platters / A La Carte
Market Price
Crab Cake Platter
Two 8 oz. Maryland lump crab cake fried or broiled to perfection. Served with your choice of (2) sides
Style of Crab Cakes:
Fried
Broiled
Sides:
Idaho Cut French Fries
Cole Slaw
Shrimp Macaroni
Gourmet Onion Rings
Fresh Steamed Green Beans
Fresh Steamed Broccoli
Corn on the Cob
Hush Puppies
Caesar Salad
House Salad
Cucumber Salad
Pasta Salad
Salad Dressings:
Caesar
Blackberry Peppercorn Vinaigrette
Buttermilk Ranch
Blood Orange Shallot Vinaigrette
Back To Menu